Pillow adjusts in firmness and feel, creating individualized comfort. The shredded foam inner chamber provides support and naturally keeps cool, while the outer chamber offers responsive cushioning.
What Does the Nolah Squishy Pillow Feel Like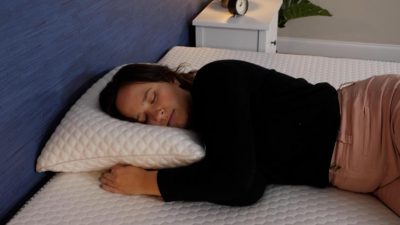 Feel can be subjective when it comes to pillows, as everyone will have a different experience based on their size and personal preferences. Personally, I fall into the average weight category and I'm about 5' 5", so if you are larger or smaller than I am, you might have a slightly different experience than I did.
---
Nolah Squishy Pillow Firmness
When choosing a pillow, it's important to pick the firmness that matches your primary sleeping position. Side sleepers generally need a firmer feel, back sleepers need a medium feel, and stomach sleepers will want a softer feel.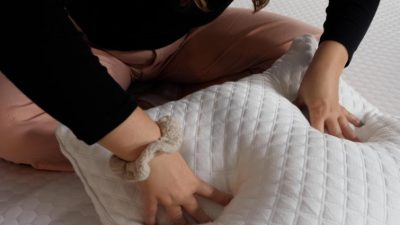 I thought that the Nolah Squishy had a medium-firm feel. The foam fill in this pillow has a super supportive feel that I thought really kept my head and neck elevated. It's definitely not a pillow that you can sink into easily—I would say it has a much more buoyant feel. If you want a pillow that is really good for contouring and conforming around your head and neck, this probably isn't it.
However, I did think the pillow felt quite squishy and cushioning, so overall I thought that this feel would be really great for side sleepers, as well as some back sleepers, depending on preference. When I sleep on my back, I like to be able to sink into my pillow a bit more than the Nolah Squishy allows you to, but I really like how it feels for side sleeping.
The Nolah Squishy Pillow is has a dual-chamber design and shredded foam fill that allows you to adjust the loft. It's a great pick for side sleepers and hot sleepers!
---
Nolah Squishy Pillow Loft
The other factor you'll want to consider is loft. A pillow's loft is essentially its height and what loft is best for you will depend on your primary sleeping position. Side sleepers generally need a high loft, back sleepers need a medium loft, and stomach sleepers need a low loft. Choosing the right loft will keep your spine aligned and prevent neck and back pain.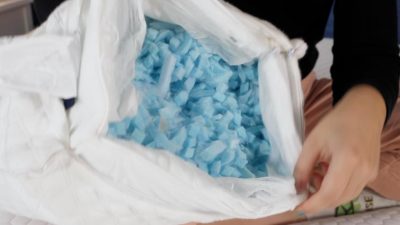 The loft of the Nolah Squishy pillow is actually adjustable, as you can remove the fill to lower the loft. The pillow comes overstuffed, so when you receive it, it'll have a very high loft. I would definitely recommend testing different lofts to figure out which is best for you. In my experience, the very high loft the pillow arrived with was too high for me to sleep on my back or side comfortably, but lowering it by removing fill made it much more comfortable.
Side — I thought the Nolah Squishy was actually best suited for side sleeping! The supportive foam fill is great for keeping your head and neck elevated to maintain spinal alignment and provide some nice pressure relief. And the higher loft will work well here too — most side sleepers will probably need to adjust the loft only slightly. Also, the squishy feel is comfortable around your shoulder as you lie on your side.
Back — I think that the Nolah Squishy can also work well for back sleepers! You'll definitely want to lower the loft down to a more medium height, so that your neck isn't craning upwards.
Stomach — I don't think the Nolah Squishy really makes sense for stomach sleepers, who need a very low loft pillow to prevent their neck from craning. You could remove a lot of the fill to get a low loft, but I think you'd end up removing most of the fill to get it low enough. It may just be more worthwhile to buy a different style.
Under the Arm — The Nolah Squishy should work well for sleeping with it under your arms! The squishy feel is definitely comfortable to hug. I would likely lower the loft a bit to use for under the arms, but that'll also depend on your size and personal preferences.
Between the Legs — I think the Nolah Squishy probably isn't the best pillow for sleeping between your legs because it isn't very moldable and the foam is very elevating, so it won't be easy to make it conform around your legs.
What is the Nolah Squishy Pillow Made Of?
This pillow has a dual chamber design, with an inner and outer cover. The outer cover is made from a blend of polyester and bamboo-derived viscose. The inner chamber is what holds the fill. It is made from viscoelastic polyurethane foam pads, which give the pillow an extra squish. The fill is shredded foam, which allows for more airflow in the pillow. The Nolah Squishy is OEKO-Tex certified to be free of toxins, harsh chemicals, and dyes.
Is the Nolah Squishy Pillow Good for Hot Sleepers?
The Nolah Squishy pillow is a pretty good pick for hot sleepers! The bamboo fibers used in the cover will help with cooling, as bamboo is great at regulating temperature and is very breathable. Additionally, the shredded foam fill will allow for air to flow within the pillow, preventing body heat from being trapped in the foam, like it sometimes can with block memory foam pillows. For more cooling bedding, see our best cooling pillows and best cooling sheets.
Nolah Squishy Pillow Sizes and Prices
Ready to buy your own Squishy pillow? This pillow is only available in a set of two queen size pillows. Price is listed before any discounts or offers. Be sure to use our Nolah coupon!
| Size | Dimensions | Price |
| --- | --- | --- |
| Queen (x2) | 18″ x 24″ | $198 |
My Final Thoughts About the Nolah Squishy Pillow
I think the Nolah Squishy pillow definitely lives up to its squishy name! It's squishy, but the shredded foam fill is very elevating and supportive—making it an especially great pillow for side sleepers, who need to keep their head and neck in alignment.
Personally, I like a pillow that I can sink into a little bit, which the Nolah Squishy doesn't really let you do. It has a very buoyant feel and doesn't mold around you very much. But that medium-firm feel is what makes it a great pick for side sleepers. It can also easily work for back sleepers, with an adjusted loft. Back/side combination sleepers would also be a great fit with this pillow!
I would also recommend the Nolah Squishy to hot sleepers. The shredded foam and bamboo-blend cover give this pillow great breathability, helping to prevent those dreaded night sweats.
One drawback for me is that you can only order the Nolah Squishy in a set of two queen size pillows, which is a little bit limiting. And again, it's not a great pick for stomach sleepers.
How does the Nolah Squishy pillow ship?
Nolah ships for free within the lower 48 states. They do not currently ship to Hawaii and Alaska.
Does the Nolah Squishy pillow come with a sleep trial?
Yes, the Nolah Squishy has a 120-night sleep trial period. During that period, you can test the pillows out and if you don't like them, you can return them to Nolah for a full refund. Nolah will donate pillows that are returned in like-new condition.
Does the Nolah Squishy pillow come with a warranty?
Yes, the Nolah Squishy pillow comes with a 2-year limited warranty.
Is the Nolah Squishy pillow machine washable?
The cover of the Nolah Squishy is machine washable, but the inner chamber and shredded foam fill are not.